WARNING!
This artist primarily creates adult-oriented content! The following site is intended to be browsed by adults only. By clicking the button below, you agree that you are 18 years of age or older and are viewing at your own risk.
---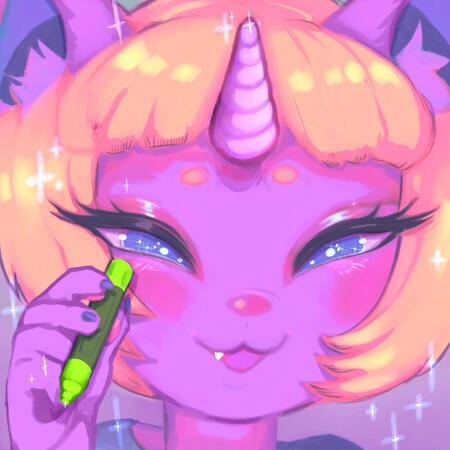 BabyWife
BabyWife is a 2D artist who specializes in adult themes. Her art style is colorful, painterly, and somewhat cartoonishly stylized.

you must be 18+ to browse or contact.
---
---
I want to make a real website but my brain is too smooth
Artwork Content Disclaimer
---
A generous portion of my artwork contains themes not suitable for most viewers (incestuous themes, cub, kodocon, and more). If you are seriously disturbed by taboo themes even in stylized artwork, I don't recommend hanging around. I understand that these themes are touchy and disturbing to many, but please understand that they are fictional only and are typically represented in an unrealistic light.

All artwork I create and post on my accounts is legal to create and distribute by US law. (See United States v. Handley, PROTECT Act of 2003, which states that the criminalization of cartoon drawings or artistic depictions is ultimately unconstitutional.)

All artwork depicts fictional subjects only. No artwork depicting real persons or animals, living or dead, will be found on my pages.

All artwork that depicts characters or stories tagged with intellectual properies (such as cartoons or video games) should be considered parodies and are not representative of their original creators and or properties, they are only tagged for the purpose of interest. My views, interpretations, and style are my own.

I also want to state that while it shouldn't matter to the end result; it is factual that I am a survivor of sexual abuse and have a history of being groomed and taken advantage of. IN NO WAY do I support the themes in my artwork in the real world; I have seen firsthand the damage it can cause and fully believe that expressing unsavory desires through stylized art is a healthy form of abuse prevention and coping. Whether someone has firsthand experiences or not, I fully believe that fictional scenarios and interests do not create abusers and more victims.

🔞All artwork is created by and for ADULT(S) ONLY. If you are a minor and you intentionally seek out my work, that is your problem. Maybe tell your parents what you've been up to if you end up seeing something you don't want to see?🔞
---